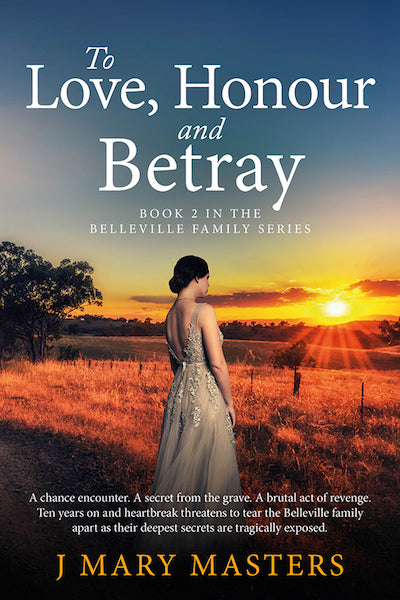 To Love, Honour & Betray - Book 2 of the Belleville family series
CLICK HERE FOR EBOOK BUYING OPTIONS
Book 2 in the Belleville family series.
The sequel to Julia's Story.
A chance encounter. A secret from the grave. A brutal act of revenge. Ten years on and heartbreak threatens to tear the Belleville family apart as their deepest secrets are tragically exposed.
About the book
It's 10 years since the end of book 1, Julia's Story and the stresses are beginning to show in two marriages.
Julia Belleville, now Fitzroy, continues to mourn the daughter she was forced to give up, while her husband James begins to look elsewhere.
And Catherine, Richard Belleville's wife, restless and unimpressed by her life in Australia, embraces the unexpected events in her family that draw her back to her English life.
Hundreds of miles from the Belleville family's grand home Prior Park, a terrible accident robs a young girl of her parents. It is only later that the consequences of this tragedy become known.
And what of Alistair McGovern, the late Francis Belleville's bastard son? Now a young adult, he demands his share of the Belleville fortune but is spurned by the two brothers, Richard and William, who will do anything to ensure this terrible secret never reaches their mother Elizabeth Belleville. When he is finally rejected, his anger and disappointment can only lead him in one direction.
And what of Dr Philippe Duval, the man Julia loved and lost. What news from the past brings him back to Australia, a country he thought he would never visit again?
In this sequel to Julia's Story the Belleville family's secrets and betrayals are ruthlessly exposed.
This new edition is released to coincide with the release of the third book, RETURN TO PRIOR PARK, in the Belleville family series.
---
---
More from this collection