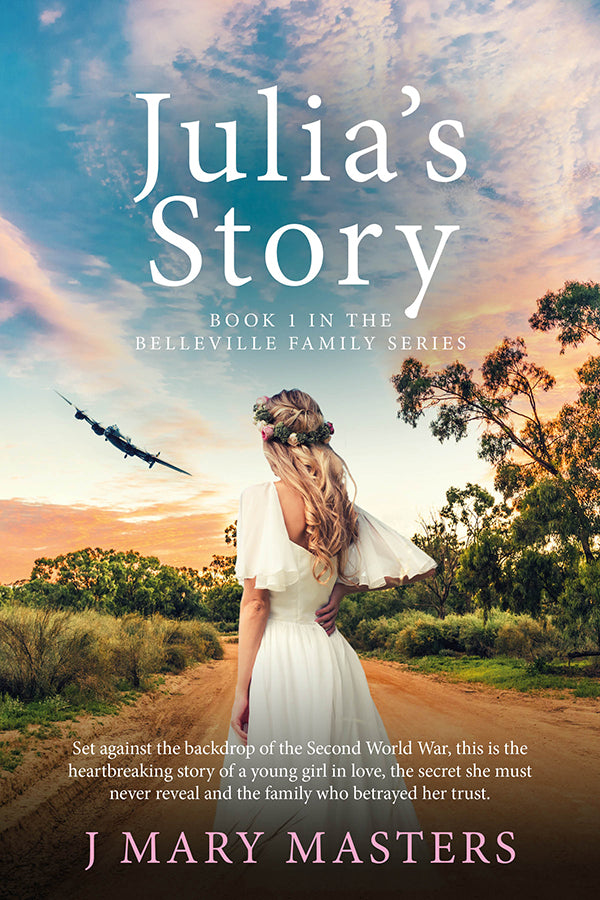 Julia's Story - Book 1 of the Belleville family series
By J Mary Masters
ISBN 9780994327642 | 326 pages | Paperback
Set against the backdrop of the Second World War, this is the heartbreaking story of a young girl in love, the secret she must never reveal and the family who betrayed her trust.
It's 1942. The world is at war. Julia Belleville, the headstrong only daughter of the wealthy Belleville family, falls hopelessly in love with American Army surgeon Dr Philippe Duval. When he is suddenly posted away, Julia is devastated, fearing she will never see him again.
Half a world away, Julia's elder brother Richard is fighting for Britain, flying dangerous missions across the Channel knowing the next mission could be his last. He meets the beautiful Catherine Cavendish whose aristocratic parents disapprove strongly of the brash young Australian officer. Is he destined to find happiness with Catherine or will he be haunted forever by, Jane, the woman he left behind?
Brought up in Richard's shadow, William Belleville resents the popularity of his older brother and when there is an unexpected death in the family, it is William who attempts to usurp his older brother's authority and take charge of the family fortune.
And then there is the matriarch Elizabeth Belleville, whose preference for her elder son is well known, but who must endure the fecklessness of her husband, Francis, and the disappointment of a failing marriage.
Into this mix comes James Fitzroy, handsome and charming, who sets his sights on Julia. But can she ever really love him?
Across the Belleville series, J Mary Masters has created a compelling story of a family whose lives are entwined in a web of secrets and lies that bind them together until one by one the secrets are painfully and ruthlessly revealed.
NOTE: Julia's Story was first published as The House of Secrets: Julia's Story.
ISBN 9780994327680 | ebook | This edition published 2019 by PMA Books
To find out more about this and other books in the series, visit the author's website at http://www.jmarymasters.com 
---
---
More from this collection